Rowan Atkinson's Fake Death News Spread By FB Malware | TechTree.com
Rowan Atkinson's Fake Death News Spread By FB Malware
Mr Bean is alive and kicking!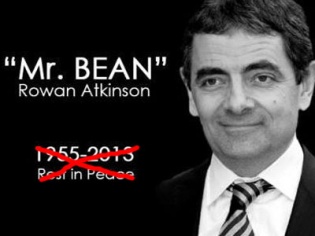 It's not new for hoax suicide and death news of celebs making rounds on social media. But when reputed sites such as CNN affirm such weird news (as reported by Travelerstoday.com), it can get serious. News of the Brit comedian Rowan Atkinson's alleged suicide spread like wild fire on social networks including Facebook and Twitter. However a post on OnlineThreatAlerts.com confirms that this is nothing but an elaborate hoax, and that the actor is well and alive.
The site clarifies: "This malicious Facebook post tricks gullible Facebook users into installing a malicious Facebook application, by claiming that they can watch Mr.Bean's suicide video. This application will ask you to give it access to your Facebook account, which it will use to send the same hoax to all of your Facebook friends".
The smart thing to do is use your common sense and not download a "Facebook Media Plug-in" to watch the suicide video. The site also explains steps to clean up your systems if you already have. And seriously, who wants to watch some one kill themselves?