Download - Gun Fu: Stickman Edition [Game] | TechTree.com
Download - Gun Fu: Stickman Edition [Game]
This game will be the next rage in town.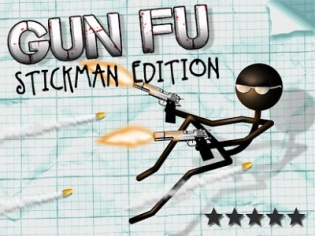 If you are done catapulting birds, crushing candies, and collecting coins while burning your virtual calories with excessive cardio workout, it's time for some Gun Fu action. While the game has garnered a little over 10,000 downloads as of this writing, I assure you that Gun Fu: Stickman Edition will hit a few million downloads before this year ends. The game available on iOS and Android is as addictive as anything you have played on your smartphone so far. It is a great test of your reflexes, and also your patience, once people start posting their new high scores on social networks and chat messengers.
Statutory warning: Avoid playing this at office as it can be a serious productivity killer. Don't blame me just because I introduced you to it.
(I hope none of my team members spot this article/game).
Publisher: Dobsoft Studios
Price: Free
Platform: iOS (4.3 and above), Android (ICS 4.0 and above)
Size: 20.9 MB (iOS); 18 MB (Android)
Download URL:
For iOS: https://itunes.apple.com/in/app/gun-fu-stickman-edition/id477055047?mt=8
For Android: https://play.google.com/store/apps/details?id=com.dobsoftstudios.gunfustickman&hl=en