Welcome Back Windows Start Button | TechTree.com
Welcome Back Windows Start Button
The much-awaited Windows 8.1 is update out now.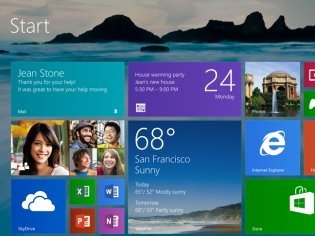 This is going make a lot of people smile (especially me), Windows 8.1 update is finally being rolled out today (4.30pm IST onwards), bringing in much-awaited features that Microsoft had done away with, including the Windows Start Button.
Microsoft, in a narcissistic fit, threw out many loved and sensible features from Windows 8 Operating system. These, on the request of millions of users, are sensibly bringing it back in the 8.1 update.
Many of the beloved features that you'll see...
Start Button
Well it's still not like Windows 7 with a list of important icons and search, but something is better than nothing. Which means when you click the start button, the Windows 8 tiled menu pops up. More importantly, now the next feature is what interests us more.
Boot To Desktop
Aah! Finally, Microsoft has learnt that their tiled interface isn't the greatest in the world, especially for desktop users and has enabled Booting to desktop mode directly, rather than the Start menu tiled fetish they have.
Better App Multitasking
Windows 8 has a current limitation of running only two apps (not programs) side-by-side at a time, this has been increased to four (though surface tablets screen size is too small to accommodate four). You can intuitively resize panes, both horizontally and diagonally, and much more.
Global Search
Earlier Windows 8 would allow only one to search in specific folders/compartments such as in apps, settings, on your PC, or on the Internet. With the new update you can see where your files are anywhere, even on cloud storage services.
More personalization
One thing all of us love more than anything else is personalisation. Our machines are an extension of us and Microsoft understands this. It has added loads of it, such as changing Lock screens pictures, more colours, and backgrounds for the Start screen (even with motion, looks quite spectacular), start screen tile size customisation, and plenty more.
There are many more changes that the Windows 8.1 epic update brings, don't forget to check your Windows Update, to know more read here.