MapmyIndia Launches The Premium Zx350 GPS Navigator
5" touchscreen device doubles up as an in-car entertainment device.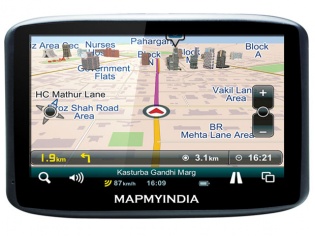 MapmyIndia, today launched the MapmyIndia Zx350 navigator. It is a 5" screen and offers a wide map-view while navigating. The device can also be paired with the car's AV system and lets you enjoying movies, videos, pictures, ebooks, etc on the go. The Zx350 offers quick and easy-to-use software, comprehensive and updated map data, along with city guides. It also helps you decide what to do and where to go once you reach your destination. The Zx350 navigator is powered by MapmyIndia's latest maps. The navigator offers house-level maps for 50 cities, 3D landmarks and 2D building footprints across 46 cities, over 10.33 million places, street-level maps for 4787 cities. It comes with in-built storage of 2 GB and can be expanded up to 8 GB. It can also be used as a reverse camera screen and the Bluetooth can be paired with your smartphone. One can make and take calls hands-free or enjoy the songs on the car's AV system via the built-in FM transmitter.
Features:
5" LCD touch screen.
Reverse routing – Users can change the start and the end location by this feature at the click of a single button.
Audible lane guidance available without TTS.
Apart from English, users can also use Hindi.
Speed limit warning – Audio-visual signs warning to indicate speed limit has been crossed.
Ferry Guidance available – The software guides the user to take a ferry wherever.
50 cities with house-level address data, 46 cities with 3D & 2D footprints, 4787 cities at street level.
Bluetooth enabled and built in FM transmitter.
Reverse camera compatibility.
Plays video, music and games across all popular formats.
Comes with built in 2 GB storage with MapmyIndia maps, car mount, wall charger, car charger and USB cable.
The device is priced at Rs 15,990. With all these features, I think it's a decent price.