Download: Krrish 3 (Windows Phone, Windows 8) | TechTree.com
Download: Krrish 3 (Windows Phone, Windows 8)
Bhaag Krrish Bhaag...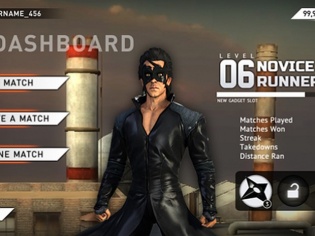 Indian developer Gameshastra Solutions has released Krrish 3 exclusively for Windows devices. The game (quite obviously) is based on the upcoming Bollywood movie of the same name. The players will have an option to choose between four characters including Krrish (Hritik Roshan), Kaaya (Kangna Ranaut), Kaal (Vivek Oberoi), and Frogman. The gameplay involves running frantically to win races. So basically, it's a "unique" game where the Super Hero runs for his life, instead of bashing up some baddies. You also get to use gadgets once in a while. However, the main focus remains on running, dodging obstacles, and jumping rooftops. Makes us wonder if Krrish 3 is actually a free-runner.
After playing it for a while, I found the game's graphics to be quite decent. The touch-response is a hit or miss affair, which can be frustrating at times. And yes, it's a complete rip-off of EA's hit game Mirror's Edge. The game's average user rating is 1.5 out of 5, which says a lot about its quality. Wondering why should you bother with this game if it's so bad? Well, it's developed by Indians, so let's help them improve with some feedback.
Publisher: Gameshastra Solutions Pvt. Ltd.
Price: Free.
Platform: Windows Phone, Windows 8.
Size: 146 MB
Download: www.windowsphone.com/en-in/store/app/krrish-3-the-game/95c7ef4c-0850-490f-b1b0-d6d0b6fe17f6
TAGS: Apps, Downloads, Windows Phone, Windows, Gaming