Motorola Announces MOTOLUXE and DEFY Mini
Adds two new mid-range smartphones to its inventory.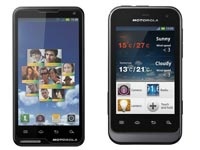 After being acquired by Google, looks like Motorola is rolling out new devices in quick succession. The DEFY+, Razr XT910, and two new tablets: the XOOM 2 and XOOM 2 Media edition have all been recently launched. Yesterday, the company unveiled two new mid-range smartphones, the MOTOLUXE and DEFY Mini.





The MOTOLUXE is a stylish Android smartphone with a large screen. It boasts of a 4" FWVGA LCD display and an 8 MP camera. The 800 MHz CPU is a dampner though. The phone has a meagre 512 MB of onboard storage, and will run on Android 2.3 (Gingerbread). The handset will make its way to the European and Latin American markets starting from February, but probably shouldn't take long for it to hit Asian markets as well.




The DEFY Mini is the younger sibling of the Motorola DEFY and DEFY+. Apparently, Motorola wants to target women with this particular model. The handset has a relatively smaller 3.2" HVGA display, 3 MP camera, 512 MB of RAM, a 600 MHz processor, and Gingerbread. It also has a VGA front-facing camera for video calls. As with the MOTOLUXE, the Mini will also be made available in Europe, Latin America and China first (the former is already available in China).
TAGS: Mobile Phones, Android, Motorola, Chethan