HTC Outs The Raider 4G In South Korea | TechTree.com
HTC Outs The Raider 4G In South Korea
Joins the 1.5 GHz dual-core party.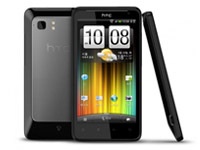 HTC has launched a new high-end smartphone, the Raider 4G. Similar to its elder sibling the Sensation XE, this Gingerbread device is also powered by a 1.5 GHz dual-core CPU. Being a 4G phone, it can offer download speeds of up to 100 Mbps.

The gadget features a gigabyte of RAM, 4.5" screen, Wi-Fi, GPS, Bluetooth 3.0, 16 GB of internal storage, and a 1620 mAh battery. It also sports an 8 MP camera with dual-LED flash, capable of recording videos at 1080p. The device measures 5" (l) x 2.6" (w) x 0.4" (d) and weighs 164 grammes.
Currently, the Raider 4G is only available in South Korea, where it comes with an optional dongle for tuning into digital TV. There are rumours of this phone making its way to US - however, no word on whether or not it will make it to India.
TAGS: Mobile Phones, Android, HTC, ck