Blaupunkt Launches GTb 8A All-In-One Subwoofer For Car-Audio Experience | TechTree.com
Blaupunkt Launches GTb 8A All-In-One Subwoofer For Car-Audio Experience
Promises to offer "thunderous bass" in the comfort of your car.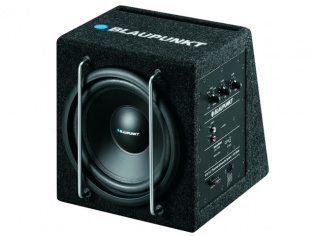 Blaupunkt India has launched the GTb 8A for in-car entertainment systems. The GTb 8A is a 8" spun-paper woofer, which pumps out the low-end thump. It takes a sub, an enclosure, and an amplifier to produce bass, in this case the the sub and amp have been clubbed together. The sub comes with a built-in 75-watt RMS amplifier, which acts as a space saver. At under 11" deep, this compact sub will fit in some pretty tight places. With both speaker level and line-level inputs accepted, the GTb 8A can be connected to any type of car radio and can be fitted into all Indian entry-levels hatchbacks, including factory-fitted models. It comes with a price tag of Rs 9990.
Features:
Closed Subwoofer enclosure with integrated Class-A/B Amplifier.
Very small dimensions: 250 x 272/202 x 260 mm.
200mm/8" Subwoofer with Spun Paper Cone (SPC) Membrane.
Amplifier with high power handling: 75 watts RMS / 150 watts Max Power.
Perfect matching Subwoofer with optimised power handling.
Signal input via RCA/Cinch and high-level.
Separate controls for lowpass filter, phase and gain.
Automatic On-/Off function via high-level, RCA/Cinch and remote signal.
Metal speaker protectors.
MDF housing material.
EPC compatible: easy connection to the power supply by using the accessory Easy Power Connection (EPC).