Toshiba Debuts Cricket Mode TV's With Sachin Tendulkar | TechTree.com
Toshiba Debuts Cricket Mode TV's With Sachin Tendulkar
Launches 3 new TV series for a stadium-like experience.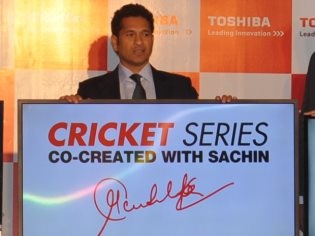 What do you get if Sachin Tendulkar marries Toshiba? A very low sounding TV. While the TV may not sound as low as this joke, Toshiba has come out with the "World's First Cricket Mode TV", co-created with the legendary cricketer – Sachin Tendulkar.
What's Cricket Mode?
Toshiba says, "(to) elevate your sensory & viewing pleasure with the unmatched picture quality that produces life like sharp images with reduced motion blur and a powerful yet distortion free stadium like sound. Encased in a new corporate design identity featuring slimmer design with narrower bezel, the Cricket Series adorns legendary cricketer Sachin Tendulkar's personalised signature on the bezel or the sound bar, that accentuates your stylish living space". So basically, it is a normal TV with Sachin Tendulkar's signature slapped on it with an exorbitant price tag!?
Not really, Toshiba claims that the Cricket Mode, takes into account the loss of depth and details that fast motions, wide angle shots and panning scenes create. "Toshiba cricket mode detects the motion and brightness to enhance the contour of objects, enhancing the details and sharpness of the objects. The cricket ball and the details of the cricket pitch are more distinct & stand-out than the background. Grass field is reproduced in its natural texture. In addition, Cricket Mode reduces the MPEG noise, reproducing smooth and sharp moving images."
Sounds like a tall order, one which we'd love to test. Surprisingly, the TV's don't cost an arm and a leg, expect the P2305 to start from Rs 17,000, L2300 from Rs 86,000 and the flagship L3300 series to cost Rs 37,000 onwards depending on size. Hopefully, they are better even when you're not watching just cricket.