Panasonic's 20 inch 4k 'Schwarzenegger' Tablet
I'm back! Bigger, Better and Tougher!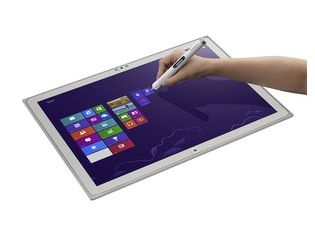 In line with Panasonic "Tough" series of devices, Panasonic launches yet another tablet the "Toughpad" at IFA 2013, Berlin.
This is no ordinary tablet, it comes packed to the brim with specs you wouldn't expect...
- Woven fibreglass with magnesium alloy chassis. Of course, if it falls flat on the screen that's a whole different problem
- 12.5 mm thickness, Panasonic calls it the worlds lightest and thinnest 20-inch tablet
- 256 GB SSD, intel i5, NVIDIA Geforce, with Windows 8 OS
- Crazy resolution of 4k
- And costs 4,508 euros (Approx Rs 3.8 Lakhs) per tablet
So who's really going to use this crazily expensive and madly spec'd tablet, you ask?
Apparently, Panasonic has aimed this at business users and for specific applications for architects to hospitals. To sell it better, it features Panasonic Electronic Touch Pen, a bluetooth accessory offering Handwriting recognition, 'paper-like' feel for freehand sketching and annotation.