IFA 2013: Sony Unveils World's First 4K LED TV, Launches Digital Store For 4K-Specific Content | TechTree.com
IFA 2013: Sony Unveils World's First 4K LED TV, Launches Digital Store For 4K-Specific Content
Will offer 70 films in the 4K resolution at launch, portfolio to be increased to 100 films by the year end.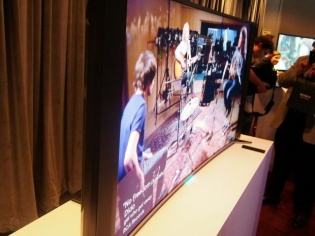 While LG and Samsung have been busy in their ongoing curved OLED TV war, Sony has come out of nowhere and announced the world's first curved Full HD LED display. Unlike Samsung and LG's curved offerings, the Sony KDL-65S990A is a 65" LED display with a gentle curvature. In simple terms, this LED-backlit LCD display may not have the high contrast and excellent colours of its Korean rivals' OLED panels, but at the same time it doesn't sport the same ridiculous five-digit price tag either.

What it lacks in superior display technology is compensated by impressive marketing terms for display enhancements — mainly Sony's Triluminos display technology and X-Reality Pro picture engine. According to Sony, Triluminos enhances colour accuracy, whereas X-Reality Pro optimises low-resolution video. Apart from picture optimisations, the TV includes a four-channel sound system. This involves four speakers placed at each end and angled in separate directions to recreate the surround sound effect.

Just like your average smart TV, the KDL-65S990A will also support screen mirroring from Android and iOS mobile devices, in addition to Sony's own VAIO Windows 8 devices through its proprietary TV SideView app. The TV also leverages NFC technology to allows to pair directly with the TV just by the virtue of tapping the remote. Sony's KDL-65S990A curved LED TV will retail for $4000, when it ships later this year. That's about a quarter of what you'd pay for curved OLED TVS from Samsung and LG.

In addition to launching a slew of new 4K televisions, Sony has done the decent thing and push towards at something that really matters — generate content for the format. The newly-launched Video Unlimited 4K service is the answer to the lack of viability for 4K TVs. This is a 4K-specific subsection of Sony's existing Video Unlimited service, which will offer those who purchase the its upcoming FMP-X1 4K media player a total of 70 films in the 4K resoultion.

The portfolio will be increased to 100 films shortly, including the series Breaking Bad, when it concludes. 4K TV episodes will cost $4, whereas films will sell at $25 and $7 for rental. Some of these titles will even come with UltraViolet code that provides access to digital copies on other devices.