IFA 2013: Sony Expands Its VAIO Range With VAIO Flip and VAIO Tap Models | TechTree.com
IFA 2013: Sony Expands Its VAIO Range With VAIO Flip and VAIO Tap Models
All devices will run Windows 8 out of the box; expected to come to Europe by end of the year.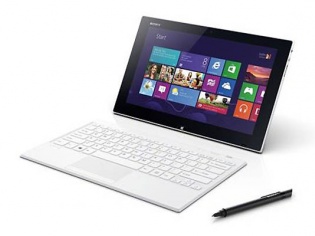 Alongside its latest smartphone, Sony also showcased a line up of Windows 8 based convertible laptop, tablet and portable all-in-one PC at this year's IFA. Let's take a look at these devices in detail.
VAIO Flip/ Fit PC
The VAIO Flip PC is convertible laptop that switches between laptop, tablet, and viewer modes thanks to its second hinge. The Flip PC has been made with aluminium and features a backlit keyboard with a gesture-enabled touch pad. The Flip PC will be available in 13-inch, 14-inch, and 15-inch models in black, silver, and pink variants. The device will sport a 4th-gen Intel Core processor. The users can opt between SSDs, Hybrid Hard Drives, and NVIDIA graphics of up to 2 GB. While the 13" and 14" versions will have Full HD (1920x1080) screens, the 15" one will have a 2880x1620 display. Check out the complete specs as listed on the product page linked in the title, on paper at least, it betters the Lenovo IdeaPad Yoga.
VAIO Tap 11
Sony claims this one to be the thinnest Windows PC sporting a fourth-gen Intel Core processor. This too has been made with aluminium and comes with full-pitch magnetic keyboard/cover, and touch pad. Sounds similar to the Surface Pro, doesn't it? The VAIO Tap 11 comes with an 8 megapixel rear-facing camera with an "Exmor RS for PC" sensor. It comes with SSD storage, an SD card reader, USB 3.0, and micro HDMI.
VAIO Tap 21
The VAIO Tap 20 at its time was the world's first Windows 8 all-in-one portable PC. The VAIO Tap 21 comes with a bigger 21.5" display with Full HD pixel dimensions. The device can be configured with Intel Core processors and optional HHD and SSD.
While the global market availability and prices are not known, all these products are scheduled to be launched in Europe starting Autumn 2013.