HP Brings Pocket Whiteboard To India
Plans to tap into the interactive learning market in India.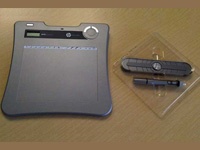 As digital education gains momentum in India, it's time for more gadgets to seep into our schools. Now, HP India has entered the interactive learning arena with a user-friendly Pocket Whiteboard. The interactive device is a potent portable presentation tool.

The whiteboard ships with a wireless stylus and a receiver that can work on any surface such as standard whiteboards, flipcharts, as well as walls. The receiver can be connected to any computer through a USB cable, while the stylus can be used for stroking, tapping, or to make gestures on the whiteboard. Gestures created with the stylus can even be saved on to a computer for future reference.

The device is a part of HP's Digital Learning Suite that seeks to digitally enhance education and optimise learning. The Pocket Whiteboard is priced at Rs 40,000.