iBall Launches Andi4a Projector Phone For Rs 19,000
The phone features a 4-inch screen, dual-core CPU, and 8 megapixel camera.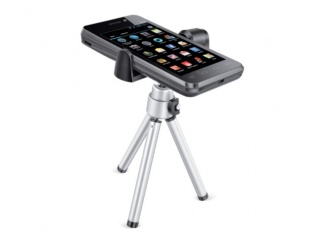 Domestic brand iBall, known for its tagline "Your i-ball view Our technology new" with brand ambassador Karina Kapoor has launched a phone with built-in projector. Called the Andi4a, this new smartphone sports a 4-inch IPS screen. It's powered by a dual-core 1 GHz Cortex A9 processor. Other features include an 8 megapixel camera with LED flash, 4 GB internal storage, Wi-Fi, Bluetooth, dual-SIM functionality, and 1500 mAh battery.
According to iBall, the projector has light intensity of 35 Lumen. It can project VGA quality videos on a 10 feet x 8 feet canvas. In comparison, Samsung's GALAXY Beam had intensity of 15 Lumen. The iBall Andi4a is priced at Rs 19,000, and it comes with a free tripod. Going by the images, the phone looks too thick to fit in the pocket comfortably. But then, it's a niche device, and those who want to flaunt a pocket-able projector wouldn't mind that.
Specifications:
Projector —
Brightness: 35 Lumen.
LED Channel: Dual RGB Channel.
Contrast: 1200:1
Focus mode: Manual
Projector Size: 32"/m
Projector Resolution: VGA 640X480

Phone —
4.0" IPS screen with 480×800 pixels.
1 GHz Dual-Core Cortex A9 Processor, 512 MB RAM.
Dual-SIM functionality.
4 GB internal storage, MicroSD card slot.
Wi-Fi, Bluetooth, A-GPS.
Android 4.1 (Jelly Bean).
1500 mAh battery.

TAGS: Mobile Phones, Android, iBall