ViewSonic Launches 3D Projector for Rs 85,000 | TechTree.com
ViewSonic Launches 3D Projector for Rs 85,000
The PJD7820HD supports 3D in Full HD resolution; compatibe with NVIDIA 3D Vision.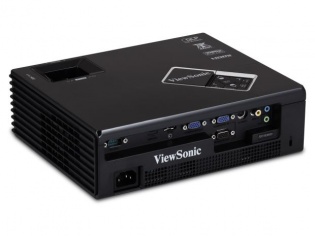 ViewSonic has launched a new DLP projector—the PJD7820HD—for office and home entertainment. The device supports the Full HD (1080p) format with 3D at 120 Hz, which makes it compatible with NVIDIA 3D Vision. A 30" widescreen image can be projected from a minimum distance of 0.77 metre. The device is capable of displaying a maximum of 300" image, and the minimum throw distance in this case becomes 7.66 m (302"). However, in our experience, a lamp intensity of 3000 ANSI lumens isn't remotely enough to produce a coherent 300" image, let alone deliver enough luma for 3D applications. Having said that, the lamp intensity should be enough for bright images even in the 3D mode for saner screen sizes such as under 100".
The now ubiquitous HDMI input is present and has 3D support. This comes in handy for 3D Blu-ray titles, NVIDIA 3D Vision-enabled games on a PC, and game consoles with native 3D support as well. There are two VGA inputs and a VGA output to connect legacy devices for those who still cling on to this older interface. A micro-USB port is present, should you want to use the remote paging function (controlling software such as MS PowerPoint on the PC via the projector's remote control). S-Video and component inputs are also provided. Here are the key features of the projector:
Lamp: 3,000 ANSI lumens, 210 W.
Projection type: 0.65" Digital Micromirror Device DLP.
15000:1 contrast ratio (w/DynamicEco).
Full HD 1080p (1920x1080) 3D @120 Hz with DLP Link technology.
Up to 300" image projection.
1.3x manual optical zoom / manual optical focus.
Blu-Ray 3D ready with HDMI.
Input ports: HDMI, 2x VGA, S-Video, Composite.
Output ports: VGA, RCA stereo audio, mini-USB, RS-232 (Com port).
6-segment colour wheel design, Auto source detection, Support HD signals, Integrated speaker.
BrilliantColor, DynamicEco.
Long lamp life up to 6000 hours in Eco-Mode (4000 hours in Normal mode).
Power consumption: 260 W (typical), <0.5 W (standby).
Noise level: 35 dB (Normal), 29 dB (Eco-Mode).
10.6" (W) x 3.3" (H) x 8.7" (D), 2.1 kg.
IR remote control.
Judging from its weight, the projector appears to be pretty portable and should be easy to carry around. The high brightness lamp should even make it possible to use it in brightly lit rooms, as long as the projected image is not too large. The multiple ports are definitely a plus point. It is not mentioned whether it comes with 3D glasses, but it is highly unlikely that they won't be bundled. In case you are wondering, it does not have a USB port to play media directly, nor can it convert 2D to 3D on-the-go. Considering the features, the ViewSonic PJD7820HD is priced rather well at Rs 85,000.