Malaysian Law Requires Eateries To Offer Wi-Fi
Will be implemented in Kuala Lumpur from April.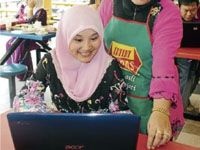 Thanks to a new law, all restaurants in Kuala Lumpur must provide Wi-Fi access to customers. Starting April, hotel operators will have to fulfil this requirement in order to renew an existing licence or to open a new eatery.

The law also covers cafes, pubs, lounges, and bars that are larger than 120 square metres. Although, hotel owners are allowed to charge a reasonable fee on the internet service if they want. According to a report, Kuala Lumpur's mayor, Tan Sri Ahmad Fuad Ismail and his council are also considering to install Wi-Fi hotspots at public hawker centres.

Hopefully the Malaysian government isn't playing an elaborate April Fool's prank.