14 Lakh Aakash Tablets Booked In Just 2 Weeks | TechTree.com
14 Lakh Aakash Tablets Booked In Just 2 Weeks
Datawind will open three manufacturing units in India to meet the demand.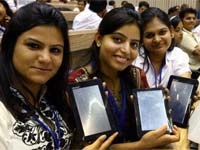 The Aakash tablet seems to be very high in demand, considering that it has registered 14 lakh bookings online in just a couple of weeks. The low cost computing devices for the masses is priced at Rs 2500 each. The demand has been so overwhelming that Datawind - the UK-based manufacturer - has decided to set up three new factories in Cochin, Noida, and Hyderabad early this year. Currently, only one factory in Hyderabad manufacturers the tablet.

Suneet Singh Tuli, CEO, Datawind said, "We never expected such a high response from both corporate and individual buyers. We plan to supply 70,000-75,000 units per day once the factories are in place by April". The Aakash had received a pre-order of over 3 lakh late last year. The first lot of 30,000 tablets put on sale by the company through Ncarry.com has already been exhausted.

In comparison, 10 lakh iPads were sold in 28 days and 30 lakh in 80 days, although it is not really a fair comparison considering that Apple's tablet is over 10 times as expensive.

The Android-based Aakash runs on a 366 MHz processor and it goes without saying that you should not expect too much from it. In contrast, the newer version known as the Ubislate 7, priced at Rs 3000 and powered by a faster 700 MHz processor is scheduled to launch by mid-January. It makes more sense to wait for a couple of weeks more and pick up the newer version instead.

TAGS: Tablets, E-Commerce, Education, Government, Android, Aakash, Jayesh