ZOTAC Launches NVIDIA GTX 780 AMP! Edition For Rs 55,000 | TechTree.com
ZOTAC Launches NVIDIA GTX 780 AMP! Edition For Rs 55,000
GPU factory overclocked beyond 1 GHz; three Splinter Cell games bundled.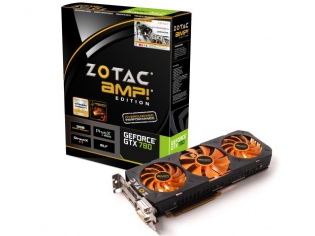 ZOTAC has launched the GeForce GTX 780 AMP! Edition for an MRP of Rs 55,000. The Hong Kong-based computer peripheral manufacturer is known for a range of high-end motherboards and graphics cards. The brand is popular for its enthusiast-oriented AMP! Editions of NVIDIA graphics cards, which feature better custom cooling solutions in addition to higher-quality capacitors and other electronics to handle factory overclocked GPU and memory.

This AMP! Edition has the base GPU overclocked beyond the 1 GHz mark, which is a 16% increase over the stock card. The custom cooling solution dubbed 'Triple Silencer' incorporates three fans that Zotac claims is capable of reducing temperatures by 10 degrees Celsius, while keeping the noise levels down to 15dBA.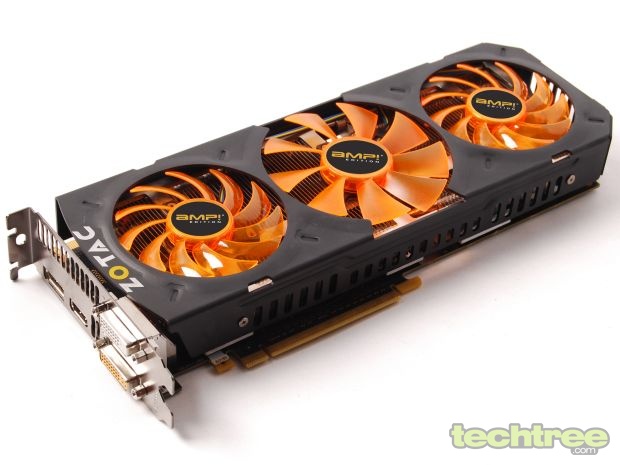 The GTX 780 is based on NVIDIA's cut-down G110 GPU, first seen in the monstrous GTX Titan launched last year. One of the main differences between them lies in the lack of 64-bit floating point precision in the scaled down GTX 780, which results in a lower computational performance, but the hit on gaming isn't as profound. In essence, the GTX 780 is a GTX Titan for much cheaper with nearly the same performance in real world gaming, in the current lot of games at least.

The icing on the cake is that the bundle includes a suite of Splinter Cell games (Splinter Cell Double Agent, Splinter Cell Conviction, and Splinter Cell Blacklist).
TAGS: Gaming, PC Peripherals, NVIDIA