Yatra.com Forgets To Renew Its Domain Name
… And rival brands cash in on the online faux pas!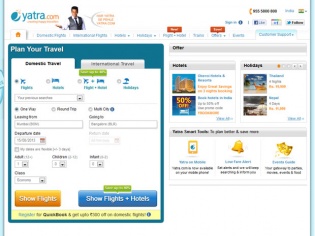 That Yatra.com domain expired on Sunday (11th August), many hapless (read discount seeking) travellers discovered soon enough. For well up to half of Monday, the site redirected users to a parked domain link. Now, the service is up and running. However, the site with boasts of 30% of online travel traffic, second only to MakeMyTrip.com did manage to make good business for its rivals. A report on TOI shows how sites such as Goibibo.com made the most of this faux pas. The site read, "Book your Yatra tickets", an obvious attempt to pull loyal customers.
While a day and a half of downtime doesn't seem a lot, but for a site that draws 6000 transactions a day, it can be damaging. Also, luckily there is a 30 day cooling off period before putting up a domain for sale, otherwise things could've been far worse of the web service. That said, with the Independence Day weekend just around the corner, this surely was ill-timed for Yatra.com. Did this affect your long weekend break plans in anyway? Let us know in the comments.
TAGS: Internet, E-Commerce, Transportation