Say Hello To Moto X: A Phone That You Can Customise
The 4.7-incher features a dual-core CPU and 10 mp camera.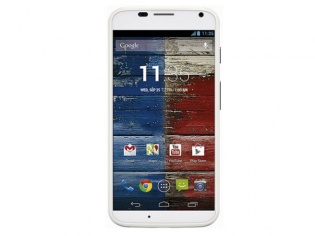 Motorola has finally unveiled its much-hyped Moto X phone in the US. The handset features a 4.7" AMOLED screen with pixel dimensions of 720x1280. The display is protected by a layer of slightly covered Gorilla Glass. Inside is a dual-core Snapdragon S4 Pro chipset, which consists of 1.7 GHz dual-core processor and Adreno 320 GPU. The phone packs in a 10 megapixel autofocus camera with 'ClearPixel' that promises superior low-light performance. Other features include 2 GB of RAM, 16/32 GB of storage, 2 mp front-facing camera, Wi-Fi, Bluetooth 4.0, A-GPS, NFC, and 2200 mAh battery.
In brick and mortar shops, the phone will be available in white and black. On the other hand, online buyers will be able to customise their handsets to some extent. According to the company, there are 18 back-panels to choose from. You can also select the colour of the power button and volume rocker. Finally, there's an option to add your own name on the phone.
On the software front, the Motorola Moto X will run Android 4.2 (Jelly Bean). The phone features a Siri-like Voice-activated assistant, which is said to work even when the device is locked. Then there's Active Display that makes use of OLED's (Organic Light Emitting Diode) high-contrast to show notifications on the idle display.
Looking at Moto X, it seems that Motorola is inspired by Nokia's strategy. Seriously, colourful back-panels, active display, curved glass, low-light camera enhancements, and prioritizing user experience over specs, can't just be coincidence.
Touted as Motorola's first 'Assembled in the U.S.A.' handset, the Moto X will be available on all major American operators such as AT&T, Verizon, Sprint, T-Mobile and US Cellular. With a two year contract, it will cost $200 (16 GB) and $250 (32 GB). The unlocked versions are expected to be priced around $575 - $625. And no, it's unlikely to be made officially available in India anytime soon.


TAGS: Mobile Phones, Android, Motorola