LG Publishes Android 4.0 Roll-Out Schedule
Update expected to begin from April of 2012.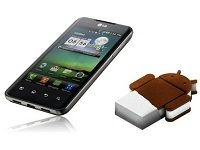 LG's update plans were revealed on Facebook last month, after the company created a buzz earlier by announcing that no update will be provided for the Optimus 2X. Other companies such as Samsung, Sony Ericsson, and HTC have already announced update plans for their respective handsets. SE was actually the first to come up with an announcement, shortly followed by Samsung and others. SE's entire 2011 line-up of Xperia handsets is eligible for an upgrade and three of its handsets (Xperia arc S, neo V, and Xperia ray) are scheduled to get the update in March \ April 2012. LG too has followed suit now, with the company via Facebook announcing the roll-out schedule for six of its Android smartphones (including country-specific handsets). The process will begin from Q2 2012 and will go all the way through Q3 2012 in two waves.

The first wave will see handsets such as the LG Optimus 2X, Optimus LTE, Optimus Sol, Prada Phone By LG 3.0, Eclipse, and my Touch Q receiving the update in Q2 of 2012. The second wave of updates will start from Q3 of 2012 and will benefit handsets such as the LG Optimus Q2, LG Optimus EX, LG Optimus Black, LG Optimus Big, and Optimus 3D. Users have been wary of getting LG phones as it is, and this new announcement doesn't really help its case. However, there isn't anything the company can do since OEMs have only so much time to build and make tweaks to the update once made available by Google. Having said that, this info will come as great news for all the deprived users after the earlier announcement. LG has just started rolling out Android 2.3 (Gingerbread) for its flagship smartphones like the Optimus 2X and the Optimus 3D, which in itself speaks volumes about the company's inability to cope with the changing market conditions.
TAGS: Mobile Phones, Android, LG, Chethan