Lernstift Smart Pen Will Refine Your Writing Skills | TechTree.com
Lernstift Smart Pen Will Refine Your Writing Skills
The smart pen can sync with computers, smartphones, and tablets.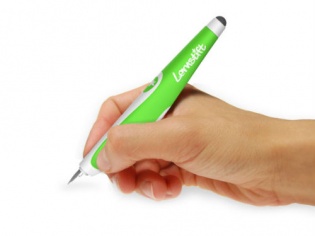 Now it seems that your kids will learn to write error-free sentences more efficiently, and that too in a legible hand-writing. Researchers in Germany have come up with a Smart Pen, called Lernstift that vibrates every time there is a spelling error or whenever the users don't write legibly.
To achieve this, Lernstift operates in two modes — the Orthography Mode and Calligraphy Mode. The former comes into effect whenever there are spelling mistakes and the latter, during diversions in legibility. The Lernstift pen is a Linux-based system, with a motion sensor, processor, a memory module, and a vibrate module.
The motion sensor in the pen is said to be capable of rendering a resolution of approximately 400 dpi at an operating frequency of 200 Hz, of which the custom-made handwriting engine uses approximately 100 dpi at 50 Hz frequency, and recognises at a speed of 20 ms per character, in case of block letter handwriting. Languages supported by Lernstift include English and German, but the makers suggest that more languages will be supported in future.
And not to forget, the Lernstift is a normal fountain-pen which makes use of conventional ink (no special inks here). Lernstift smart pen has been launched on Kickstarter.com (a US based non-profit crowd sourcing company), and is priced at nearly $150 (approximately Rs 9000). The digital pen comes in custom-made colour variants, and its firmware will get timely upgrades.
Lernstift is not yet available in India, but the device can become a boon for students, once it starts selling in the country. Check out its demo video below for more details:


As an option, you can brush up your writing skills with professional essay company Smart Writing Service and its freelance experts.
TAGS: Gizmos, Input Devices