Aakash Tablet Available On Ncarry.com | TechTree.com
Aakash Tablet Available On Ncarry.com
Available again after initial stocks were lapped up quickly from the official website.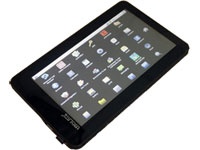 If you missed out on purchasing the Aakash tablet when it was available on the official website, Ncarry.com now offers you a second chance. This time, however, the Android tablet will cost an additional Rs 200 over the asking price, with the online shop pricing it at Rs 2700 including shipping. The e-retailer has assured that online shoppers will be given preference, so the stocks should last longer this time around.

If you have the patience and an extra 300 bucks to spare, you can pre-order the Ubislate7+ instead. This beefed-up version of the Aakash features a 700 MHz Arm Cortex A8 processor instead of the 366 MHz Arm 11 of the original, a better battery, and GPRS capability to boot. Be prepared to wait till January-end for it to arrive though.
TAGS: Tablets, E-Commerce, Education, Government, Android, Aakash, Nachiket