Lava Launches A16 With MTV's Help
"Unbreakable", youth-centric mobile designed with inputs from the music channel.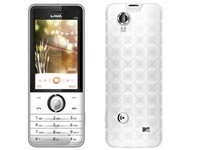 Lava has launched its new A16 phone, which it says can withstand an impact of 120 kg. Targeting the lucrative youth segment, this affordable mobile has design and style inputs from the television channel MTV. This particular segment is considered very important because of its high upgrade rate.

The candy bar phone comes with a 2.6" "high resolution" IPS screen and a 3.2 MP camera with "LOMO effects to capture wonderful moments" (we wonder what that is, suggestions are welcome). There is support for social networks such as Facebook. In addition to the phone lock, it has additional privacy settings to lock SMSes and pictures. It features SRS WOW HD audio and it sports the a Yamaha PA system enabling a louder than usual speaker. The battery of 900 mAh should be okay as the phone doesn't have any power-hungry features (read touch screen). Some of the other features include mobile tracker, auto call recording, and earphones with audio controls.

With trendy looks, the company claims that the phone can withstand an impact of up to 120 kg. We can imagine a scenario in which the phone will survive in the unlikely event of a pro wrestler sitting with the phone in his back pocket. Then, there is a very real scenario in which it should be able to survive the daily journey through a crowded Mumbai local train. Can you think of any other scenarios in which the 120 kg impact resistance can be considered a real USP of this phone?
Like every other Indian mobile brand, Lava has a manufacturing plant in China, but the software is sourced from India. The Lava A16 is priced between Rs 4000 and Rs 4500.


TAGS: Mobile Phones, Lava, Jayesh