MapmyIndia Trailblazer 2 GPS Navigator For Motorbikes Launched | TechTree.com
MapmyIndia Trailblazer 2 GPS Navigator For Motorbikes Launched
3.5" touch-screen device includes Bluetooth, bike charger, and helmet voice instruction receiver.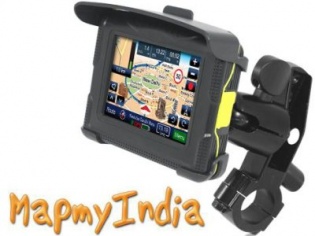 MapmyIndia has launched Trailblazer 2, its new GPS navigator designed for bikes. The device has an 3.5" touchscreen and includes entertainment features such as music, movies, and photos on the go. Trailblazer 2 is pre-loaded with Don't Panic software, a brand new, fast, smart, and easy-to-use GPS navigation software interface, powered by 3D and house-level maps from MapmyIndia.

Trailblazer 2 can be purchased online at Rs. 16,990 (one-time cost only) with no recurring usage charges, no dependence on Internet, and no need for mobile network for navigation.

The Trailblazer 2 is designed to be the ideal bike travel essential, across India. It charges directly from the bike battery and has a special bike clamp mount to keep it steady on the handlebar. One can listen to voice instructions with any standard A2DP Bluetooth headset. All riders or pillion riders in a range of 3 metres from the device can tune in to listen to directions from the unit. The MapmyIndia Trailblazer 2 can be easily unclasped from the bike when not in use.

Pre-loaded with what they claim to be India's most exhaustive and accurate maps, Trailblazer 2 offers door-to-door navigation to house addresses in 50 cities, 10.33 million points-of-interest across various categories, 5000+ cities at street level with localities, streets, landmarks, 6,00,000 towns and villages, connected by complete highway network across India and 3D landmarks across India and 2D building footprints across 36 cities.

How does a solution such as this one compare to the type that you can access from any smartphone? We think the main benefit lies in this specialised device's longer battery life. That it helps keep alive an alternative GPS eco-system and competition in the age of consolidation, is a bonus. Also, open market clamps to mount phones to the handlebar of our cycle/bike haven't been all that good, so let's hope the one bundled here can actually hold on to both, the bike and the navigator.