Samsung Introduces GALAXY NX Camera Along With New Tablet, Laptops, And More | TechTree.com
Samsung Introduces GALAXY NX Camera Along With New Tablet, Laptops, And More
Windows 8 and Android devices swell up the Korean electronics giant's already fat portfolio.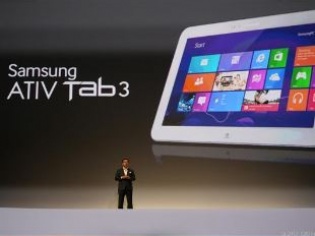 Samsung announced a bevy of new devices for Windows and Android including tablets, laptops, AIO, and camera. The ATIV Q is a versatile convertible with Windows 8 and Android. The ATIV Tab 3 that looks similar to the GALAXY Tab 3 runs Windows 8. The ATIV Book 9 Plus is a new UltraBook that was introduced along with the ATIV Book 9 Lite and AIO ATIV One Style 5. Samsung also introduced the GALAXY NX D-SLR camera that was being speculated since long. This runs Android and features interchangeable lenses.
Samsung announced a new categorisation of the ATIV family: Tab, Book, and One. It doesn't take a genius to figure out that the first one is for tablets, second for notebooks, while the third is for AIOs.
The ATIV Q is a 13.3" convertible with a qHD+ screen featuring 3200x1800 pixels that should result in very crisp images at 275 PPI. The tablet features a sensor that senses your presence and automatically adjusts the brightness for your comfort and also to save battery power when you are not around. It features a physical button that lets you switch between Windows and Android without rebooting in a jiffy. Android Apps can be pinned to the Windows Start Screen, which is something new. The ATIV Q can run up to 9 hours, thanks to its power-efficient Intel Haswell CPU. The laptop's sliding form factor allows it to convert from a laptop to a tablet and back almost instantly. At 13.0 mm thickness, the ATIV Q made of magnesium body weighs just 1.29 kg and comes with an S-Pen.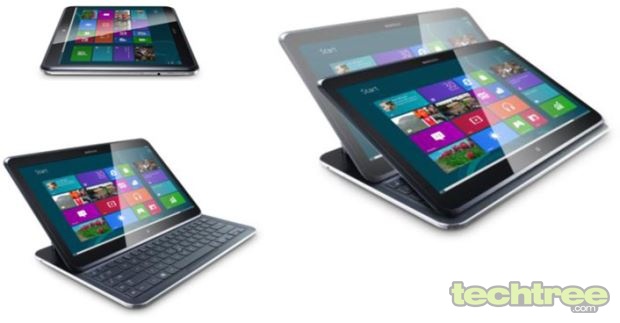 Samsung ATIV Q

The ATIV Tab 3 with Windows 8 is just 8.2 mm thick and weighs only 550 grams. The screen is 10.1" and the battery life is 8.5 hours. It features full MS Office 2013, which is generally found only on Windows RT devices. Of course, it also features the S-Pen.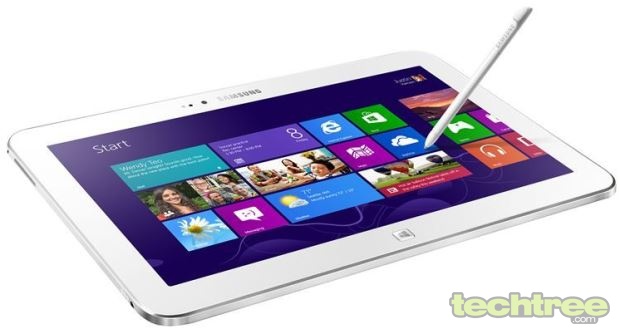 Samsung ATIV Tab 3

The ATIV Book 9 Plus measures 13.6 mm in thickness and weighs 1.39 kg. It boasts of a 12 hours battery life. The crisp screen is similar to the one found on the ATIV Q with qHD+ pixel dimensions. Then there is the ATIV Book 9 Lite with is ironically thicker and heavier at 16.9 mm and 1.44 kg respectively. It is powered by a quad-core CPU and is available in black as well as red colour options. The ATIV One Style 5 is an AIO with a 26.9 mm bezel and is less than 5 mm in thickness. It features Samsung's SoundAlive system for good sound reproduction and has HomeSync Lite, which is a Wi-Fi hub solution.
The GALAXY NX is being marketed as a serious high-end mirrorless D-SLR camera for the power user. The stock optics consists of a 13-lens system that includes fish-eye. It features Samsung's hybrid AF for quick focus and has a 20.3 mp sensor. The top shutter speed is a speedy 1/6000 of a second. It supports up to 4G LTE for data connectivity. It runs Android 4.2.2 (Jelly Bean) with an intuitive UI that is different from the company's GALAXY camera. It's got a 4.8" screen and is powered by a 1.6 GHz quad-core CPU in addition to a dedicated imaging processor. There are 30 Smart Modes to choose from to suit your requirements.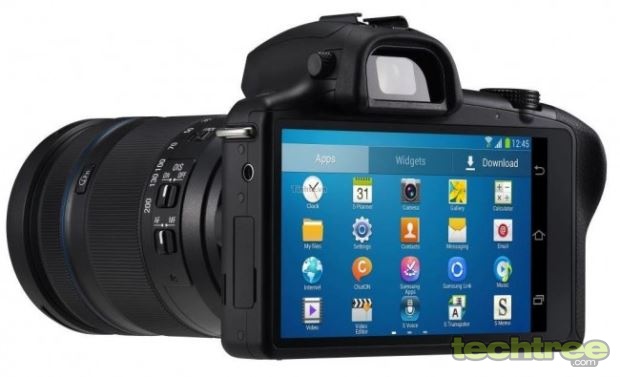 Samsung GALAXY NX

Samsung also used this event to re-introduce its already known products namely the GALAXY S4 mini, GALAXY S4 Active, and the GALAXY S4 Zoom camera with 10x optical zoom and 16 mp sensor that looks more like the successor to the original GALAXY camera, but it is in fact a phone (albeit grossly oversized due to the lens, which we are not sure how we will fit in the pocket) as well. It was also announced that Samsung will spice up the S4 with five new colours: Blue, Purple, Red, Brown, and Pink, in addition to the White and Black. Pricing and availability for India is yet to be announced, but we will surely keep you posted as and when that happens.
TAGS: Desktops, Laptops, Cameras, Android, Windows, ATIV, GALAXY