Following Vodafone, Airtel And Idea Slash 2G Data Rates; What It Means For You
Two more telcos slash 2G data tariffs by upto 90%, find out how you benefit as a consumer and mobile user.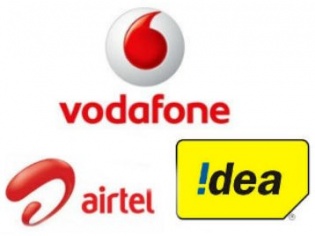 After Vodafone India reduced mobile Internet prices in multiple telecom circles, it is now the turn of Airtel and Idea Cellular mobile service providers to effect a slash in their 2G data tariff for prepaid and postpaid customers.

Airtel will now charge 1 Paisa for every 10 KB of mobile data usage, a 90% slash of the company's earlier 2G tariff of 10 Paisa for every 10 KB of data. Airtel has presently rolled out the change for prepaid subscribers in 9 telecom circles - Punjab, Haryana, UP East, Kolkata, Gujarat, Orissa, Madhya Pradesh, Maharashtra and Kerala. The new tariff should be noticeable by customers, as according to Airtel, these changes are immediate.

Another tweak by Airtel, is increase in the validity of its Rs 22 and Rs 25 recharge coupons to 30 days and increase in validity of the Rs 125 recharge voucher to 90 days.

Idea Cellular wasn't far behind, announcing its 90% slash of 2G data tariffs. As per the new plan, Idea customers would need to pay 2 Paisa per 10 KB data, versus the existing 2 Paise for every KB of data (which meant 20p/10KB).

This new tariff is valid for Idea subscribers in 8 telecom circles - Karnataka, Tamil Nadu, Bihar, Orissa, Kolkata, West Bengal, Assam and the North East, albeit for 90 days only. Idea Prepaid customers would have to recharge for a currency denomination between Rs 5-10 to avail the new 2G tariff, whereas postpaid customers would get the new rates by default.

To recap and compare, the revised 2G data tariffs of the majors so far:
Vodafone: 2p/10 KB, for both prepaid/postpaid, in 4 circles of Karnataka, Madhya Pradesh, UP West and Chhattisgarh.
Airtel: 1p/10 KB, for prepaid only, in 9 circles of Punjab, Haryana, UP East, Kolkata, Gujarat, Orissa, Madhya Pradesh, Maharashtra and Kerala.
Idea: 2p/10 KB, for prepaid after activation for 3 months, in 8 circles of Karnataka, Tamil Nadu, Bihar, Orissa, Kolkata, West Bengal, Assam and the North East.


What Internet speeds does 2G get you?
Barely 7 KB/s (kilobytes) over a plain GPRS network, when using a much older mobile phone or when signal/connectivity is bad.
About 28 KB/s (kilobytes) over an EDGE network, supported by almost all phones in the last few years, as long as you have good signal.

Who would want these slow speeds?
For one, something is better than nothing, so those who've stayed away from using the Internet on their mobile may find this a good time to begin. Also, it's the economy, stupid! Whether you're on fixed-price postpaid 3G data plans or on low-cost prepaid plans, reducing costs is welcome.

Why would I tolerate 2G speeds?
Downloading ring tones, sending MMS, having video calls
Extremely simple web browsing (googling for word definitions or checking the weather, for example)
Occasional e-mail checking on-the-go, without needing an Internet connection at home
Following news on the move, or to check cricket score cards
Downloading lighter apps on smartphones
Accessing GPS navigation for guidance while driving
Clearly, a market exists in urban areas for at least the above reasons, where people don't necessarily need 3G or want to commit to paying Rs 49 or Rs 99 per month. Add to this, the much-hyped rural services for farmers, market-produce sellers, and so on.

After a period of consolidation, the big telcos seem to have seen it fit to test the markets again and see what they can catch - this time with data pricing changes. With the Rupee touching 60 to the US Dollar though, costs may rise once again for operators who have already faced non-market crises like license/spectrum/roaming/taxation. We are still pending response of two other telecom majors, Reliance and BSNL, so let's hope for a win-win situation for both subscribers and operators.