iBall Slide 3G-7334i Tablet: A 7" Dual-SIM Phone Priced Under 10k
Runs Jelly Bean on a dual-core processor.
iBall has launched a new tablet in its slide series called the Slide 3G-7334i with interesting specifications for its price tag. The Slide 3G-7334i is not quad core like iBall's earlier Slide Q9703 which was priced at Rs 16,000 with a 9.7 inch screen. Instead the tablet has a dual-core processor, a 7-inch display with 1024x600 pixels, runs Android 4.1 Jelly Bean and is priced at Rs 9,990. It comes with dual-SIM support for phone calls, which must be its USP.

The tech-specs are almost outdated in comparison to today's multi-core, large display size, and high-RAM trends seen in current-gen costlier tablet computers. Whether you are comfortable putting a 7-incher to your ear for phone calls, and what's more, use two SIMs while you're at it, is subjective and many people may well be glad to do so. iBall could have added more in the Slide 3G-7334i rather than leave it a "plain Jane", but this model seems to be doing fairly alright for its purpose and plays the price game instead.

Technical specifications of iBall's Slide 3G-7334i:
7-inch display, capacitive multi-touch, 1024x600 pixels
Dual-SIM support for voice calling and 2G connectivity
Android 4.1 operating system
1 GHz dual-core ARM Cortex A9 processor
1GB RAM, 16GB internal storage
MicroSD card slot for expansion up to 32GB
2 MP rear camera, and VGA front camera
2G, 3G, Bluetooth, Wi-Fi and microUSB connectivity
3000mAh Li-Ion battery
The iBall Slide 3G-7334i is a mid-range priced tablet with a shot at competition against a slate from a reputed brand, the Samsung GALAXY Tab 2 P3110. The Samsung device is priced at Rs 9,499 (online), which yields a 7-inch display and a dual-core processor, with Android 4.1 Jelly Bean operating system.

However, iBall's Slide 3G-7334i could interest users wanting 3G connectivity, and for those preferring to use 7-inch slates as phones. For users not wanting to compromise on features, here is a buyers' guide of tablets priced below Rs 25,000.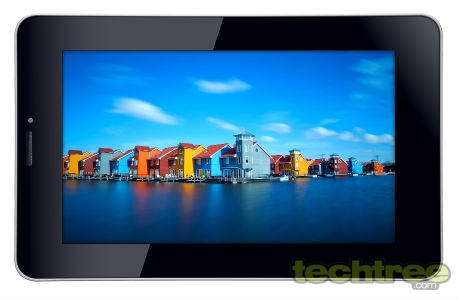 TAGS: iBall, Tablets, Android, Jelly Bean