Microsoft Socl Gets New Tools | TechTree.com
Microsoft Socl Gets New Tools
After sitting quiet for a long time, MS is trying to find its foothold in the social networking scene.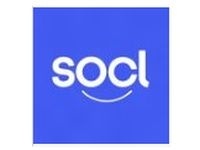 Microsoft's little known (and probably forgotten) social networking service, Socl just added new features to its website. The site, which looks like a cross between Pinterest and Tumblr is trying hard to gain some love from netizens. The service is one of the few known social networking sites (Google+ is another) that support animated GIFs, however until now you could only share GIF URLs. Now, you can upload animated GIFs directly to the site. In fact, with the BLINK app for Windows Phone/Windows 8, users can create GIFs (or Cliplets) to be shared on Socl. Then there is the Collage tool that lets you create image and video mashups to put up on the site.

Finally, there is Picotale, which is a meme-generator that lets you add text on images. Heck, it even finds you the best image based on what you type! And for video lovers, there is a Video Party tool that lets you create and share video playlists with your friends. Apart from these apps, the official blog also talk about an "enhanced Socl for mobile devices", suggesting that the service's design has been modified to suit mobile devices as well. Check out the video below to know more about Socl.