New Rapoo 3920P Laser Mouse Operates In 5 GHz Wireless Mode | TechTree.com
New Rapoo 3920P Laser Mouse Operates In 5 GHz Wireless Mode
Offers 18 month battery life, two extra buttons for customizable functions, DPI switching and horizontal tilting.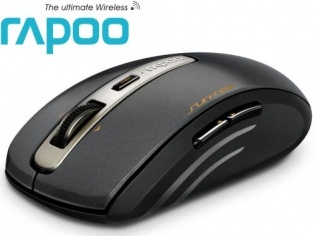 Rapoo has introduced their 3920P mouse with 5 GHz anti-interference wireless connectivity and laser engine, to use it freely even on glass surfaces. Apart from the usual mouse functionality, two extra buttons are present on the left of the mouse, which function as Forward/Next and Back buttons. The product also has a DPI switch and scroll wheel, which can be tilted on either side to move the mouse pointer laterally on the screen with less effort.

Energy saving technology and the power on/off button help give it long battery life of up to 18 months, freeing you from the trouble and cost of changing batteries frequently. In usage scenarios such as gaming/business desktops and portable laptops, not having to think about batteries can relieve you of worry about your mouse.

Key features:
"Surfree" Laser Engine.
800/1600 DPI button Laser engine enables it to work on any surface, even glass.
5 GHz transceiver for interference-free wireless connection.
2 extra buttons on the right, for customized functions such as Forward, Back, Tilt-wheel, etc.
18 month battery life.
Compact body with metal texture and fashionable look.
The Rapoo 3920P 5 GHz wireless mouse is targeted at power users, who are willing to pay for it, and expect more features than normal wireless mice at one-third the price. RAPOO 3920P wireless mouse is priced at Rs 3350, and come with a 2-year replacement warranty.
TAGS: Input Devices, Rapoo