Microsoft Improves Windows Phone Speech Recognition
Claims to be twice as fast and more accurate; currently being rolled out to the US market.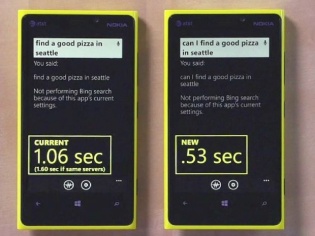 Microsoft claims to have improved the speech recognition feature for Windows Phone devices. The update has been rolling out over the last few weeks, according to its official Technet blog. Bing Voice Search, as it is known, is said to be 2x faster and 15% more accurate than before. Microsoft Research's team says that the core of this improvement, are deep neural networks (DNN), which try to model speech recognition based on the human brain, using mathematical formulas and algorithms. The technology is available only in the US as of now. It must be noted that since the actual processing happens on the servers, there is no necessity to download an update for this. Changes will be visible when Microsoft releases updates for servers in a region.
Speech recognition is nothing new, but is certainly getting hotter, as people are starting to depend on it slowly. Apple popularised it with Siri on its iDevices, and Google has its own speech recognition engine for websites and Android devices. Microsoft already had speech recognition for its Windows OS via the Accessibility features, and it should not be hard for it to surpass the competition on Windows Phone. You can check out the video below, to learn more about how Bing makes voice search better on Windows Phone:
TAGS: Mobile Phones, Software, Windows Phone, Microsoft