Mobile App Will Help Women Fight Sexual Harassment | TechTree.com
Mobile App Will Help Women Fight Sexual Harassment
Expected to reduce crimes against women.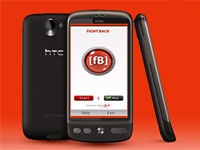 With the rising menace of crimes against women in our country, it was high time that women were empowered with something to fight against them from wherever they are. A new smartphone app launched yesterday aims to do just that. Known as Fight Back, the app created by Indian non-profit Whypoll, will enable women to alert her friends or relatives at the press of a button. Once the alarm is raised, an SOS message is texted, emailed, and posted on Facebook. The recipients can then track the sender's location via GPS to send help.

The national capital New Delhi tops the list of cities in India with the highest rate of sexual assault cases against women. With 489 reported rape cases in 2010 as against 459 the previous year, the number has shown an alarming increase. Apps such as these are certainly necessary and will definitely arm women with a weapon to fight against and help reduce such crimes.

To download the app, you must go to the website www.fightbackmobile.com/welcome and register your account. Once your registration is confirmed via a link sent through a confirmation email, you can go to your settings on the website to associate your Facebook login with this service. You can also register mobile numbers and email addresses of your friends of your friends and relatives to whom the alert is to be sent. You can now go to download the app to your computer and transfer it to your mobile. The app is available for Android, BlackBerry, and Symbian devices. Fight Back comes with a subscription of just Rs 100 per year, which need to be paid in advance before you are allowed to download the app. While this amounts to only a small fee of less than Rs 10 per month, the fact that it is not free will might hurt the chances of women installing it on their handsets. However, users registered to the website can use the service for free to post alerts from their computers.


An Alert page on the website shows alerts received by the service. These are categorised as Live Alerts, alerts within the last 30 days, and alerts within the last one year. Clicking on the Alerts will provide information about the alerts to enable anyone who access them, to extend his \ her help to the victim. You can post a comment on the left hand side of this page, which will then appear as an alert.


TAGS: Mobile Phones, Apps, Security, Jayesh