Zebronics Releases Artifice 3 Digital Photo Frame | TechTree.com
Zebronics Releases Artifice 3 Digital Photo Frame
Video playback and multiple slide-show modes allow users to enjoy their most precious photos and home videos in rich colour.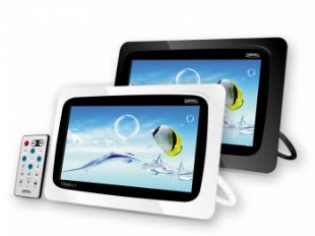 Top Notch Infotronix, that supplies computer accessories/peripherals under the brand Zebronics, has launched its latest digital photo frame called the Artifice 3, which people can use to store all their photographs/images and videos of their precious memories. Zebronics Artifice 3 also provides a video playback function with which videos in MPEG1, MPEG2, MPEG4, DIVx4, DIVx5, H.263, 3GP can be played.

The Artifice 3 digital photo frame sports a 7-inch screen having 800x480 pixels, and reads media files off USB flash disk and SD/MMC cards. While the screen display ratio is 16:9, the frame preserves the original format of the photos, ensuring that they are not stretched or cropped. Viewers can enjoy their photographs as a slide-show and also zoom in on a particular part for detail. The picture rotation feature in the Artifice 3 also applies to all the users' photographs shot in portrait mode. Along with slide-shows, users are provided with multiple modes/custom transitions that can be added to slide-shows to make the photography experience more intuitive.

Along with these features, Artifice 3 can also play music (mp3, wav, wma formats), so one can add appropriate background music to respective slide-shows. It can also be substituted for an alarm clock, and users get calendar functions, so usage as a digital calendar is also probable.

Zebronics' digital photo frame is available in elegant piano-black and glossy-white body-color options, and can be operated via remote control (comes with the device). Zebronics' new Artifice 3 is priced at Rs 3333 with a year's warranty, and is available for purchase at Zebronics' e-commerce site as well as leading consumer-IT stores across the country. In India's digital photo frame market, this price is normal and reasonable for the functionality offered.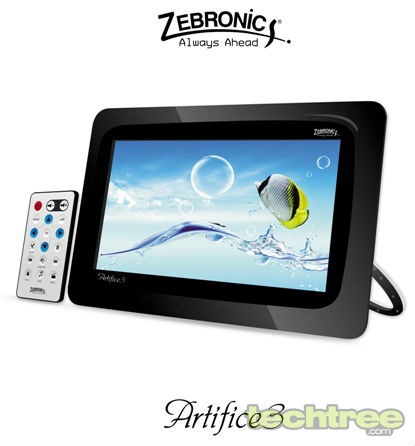 TAGS: Zebronics, Accessories