Will "Mark Zuckerberg" Get Sued By Facebook?
Israeli "entrepreneur" changes name to avoid getting sued by FB.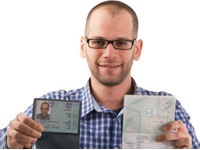 Let's face it; the Israelis know how to survive and it doesn't matter if that requires to be done by hook or by crook. The latest testimony to this trait can be observed in a new case in which an Israeli entrepreneur Rotem Guez changed his name to that of Facebook Co-founder and CEO Mark Zuckerberg in a bid to avoid getting sued by the social networking giant.

The whole fracas started soon after FB filed a lawsuit against Guez for his Like Store, which claims to sell likes to businesses looking to boost their reputation in the online social networking arena. As you can imagine, selling likes is obviously in clear violation of FB's terms of services.

Guez has not stopped at this; he has gone further by creating his own website dedicated to the name change and uploaded a video he created, of his visit to the Ministry of Home Affairs for the official name change. He goes further and asks "Will Facebook sue Mark Zuckerberg? or maybe the opposite?" at the end of the page. Guez proclaims himself as "I'm Mark Zuckerberg and I'm Time's Troll of the year!" on his FB page titled "I'm Mark Zuckerberg" with a rising fan following now numbering at just a little under 5000. He has posted his photo holding up his passport and identification card showing his new identity.

The (con) artist formerly known as Rotem Guez.
Will FB relent and let a troll looking for notoriety win just because he legally changed his name to that of its founder? We will find out soon as we don't expect to take this lying down. Check out the video posted on the website.