Contact Diaries Brings Mumbai To Your Mobile | TechTree.com
Contact Diaries Brings Mumbai To Your Mobile
Details information about important contacts and happenings in the city.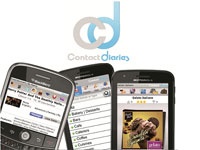 Remember how useful the Yellow Pages used to be during the era of landlines? Now in the present mobile era, Contact Diaries attempts to achieve the same and a lot more. This mobile application for Android and BlackBerry smartphones, attempts to provide information from your restaurants, to movie timings, to hottest offers in the city, all on your mobile screens.

The app allows users to search, call, review, map, and discover a variety of places in Mumbai, including hotels, night clubs, doctors, educational institutes, businesses, movie theatres, art galleries, shops, and spas. It uses your geographical location to help you locate the best and closest locations for your search. It even presents you with recommendations about the quality of the locations once you search, based on consumer reviews that can be read right through the app.

Contact Diaries claims to have a comprehensive database of 2250 restaurants, 700 movie halls and art galleries, over 15,000 shops, colleges, and several other businesses including chemists and florists. You can even track your flight status using this app. The best thing is that this application is available for free from www.contactdiaries.com/download.html or from the BB App World or Android Market, depending on what device you have.

Similar in many ways to the Getit Local Search app for the iPhone launched earlier this year, Contact Diaries is currently not available on the App Store. Unlike Getit, which aims to provide information about locations across the country, Contact Diaries concentrates on Mumbai city, so we hope that it does a better job as it has less locations and services to cover.


TAGS: Mobile Phones, Apps, Android, BlackBerry, Jayesh