Katrina Pips Anna As Most Searched Personality: Report
Analysis reveals the online searching habits of Indians in 2011.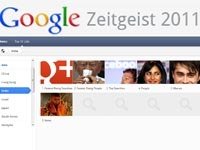 Most Indians log on to the internet for jobs, politics, cricket, movies, and social networking, according to Google Zeitgeist 2011, a report about search trends published every year. The report researches search queries received by Google, with an aim to giving insight into search trends.

With the increase in mobile internet use, the report indicates that over 125 million Indians Googled this year. It gives some interesting insights into the trends and fads of 2011. Indians have been looking for information on the Lokpal Bill and Aadhar cards as far as political searches are concerned, with international news searches topped by the earthquake in Japan and Osama Bin Laden's death. While Bollywood actress Katrina Kaif was the most-searched celebrity for the fourth year in a row, social crusader Anna Hazare closed in on the second spot, as well as topping the list of the fastest-rising people queries of the year. Bollywood hero Salman Khan and controversial model Poonam Pandey came in at the third and fourth places respectively.

Indians seem to be looking online frantically for jobs in the financal sector, as can be seen by IBPS (Institute of Banking Personnel Selection) becoming the fastest-rising search. Indian Railways also continued to remain high in the popularity stakes, as an ever-increasing number of people booked tickets and searched for train timings online.

Movie search results showed that Bodyguard emerged victorious over Ra.One, followed by Harry Potter, Delhi Belly, and Singham. This list was topped by Mankatha and Dookudu in southern India. 2011 has also been the year of cricket, with India winning the World Cup. It therefore comes as no surprise that IPL and World Cup 2011 were the top-searched sporting events.

On the technology front, Steve Jobs featured prominently, especially after his resignation and following his death. Interestingly, teenage pop star Justin Bieber also featured high on the list, confirming that the female sex was adequately represented among the 125 million odd users.

Here's the list of top searches for six categories.