Computex 2013: ASUS Shows Off Transformer Book Trio With Two Intel CPUs | TechTree.com
Computex 2013: ASUS Shows Off Transformer Book Trio With Two Intel CPUs
The device can boot into Windows 8 as well as Android and switch instantly between the two OSes.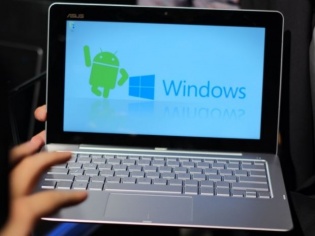 ASUS continues to dish out more Transformer devices with the new Transformer Book Trio being shown off at Computex 2013. As the name suggests, the device with an aluminium body can transform from a tablet to a laptop and back in a jiffy. It consists of a tablet with an 11.6" Full HD touchscreen that attaches to a PC Station dock to bring it laptop functionality and better productivity. And that's not all: while the tablet runs Android, the PC Station runs Windows 8.

Of course, this essentially means that the Transformer Book Trio actually consists of two computing devices powered by two CPUs. The tablet is powered by a 2.0 GHz Intel Atom CPU, while the PC Station has the latest laptop-class Core i7 Haswell processor. Also, the tablet has a 64 GB SSD while the PC Station has got a 750 GB HDD inside. The PC Station can also be independently connected to an external display even without the tablet part attached, to work as a desktop PC. Switching between the two OS is said to be possible using a dedicated hardware button and data is said to be synchronised between the two operating systems so you won't lose any data if you disconnect the two in the middle of your work session. About the name, we think this should rather be a Duo instead of a Trio because there are two devices with two CPUs and two OSes. However, we will wait till ASUS clarifies about the third device that should actually make Trio an apt name. Pricing for this device is yet to be announced.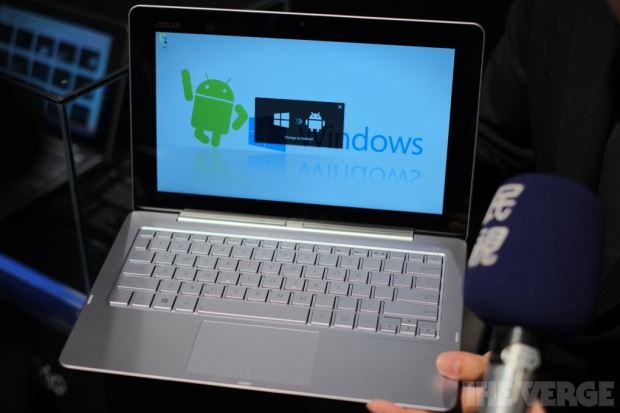 Image credit: The Verge
TAGS: Laptops, Tablets, Windows, Android, ASUS, Computex 2013