Blackberry Devices Get New Nimbuzz Messenger | TechTree.com
Blackberry Devices Get New Nimbuzz Messenger
The new app is available for download for free, and is said to be Nimbuzz's fastest till date.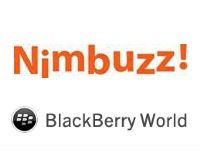 Popular Instant Messaging service Nimbuzz, has launched a new Nimbuzz messenger application for the Blackberry OS, which would be available for Blackberry users across the globe. This new version of the Nimbuzz for Blackberry is available on the app world for download. As per Nimbuzz, this new messenger is the fastest messenger that the company has developed till date.
The updated version is said to be one of the lightest applications in the messaging ecosystem as it is supposed to occupy minimum memory space which in turn ensures high speed file transfer. The enhanced version has been designed for better connectivity on slow data networks along with a drastic reduction in run time memory. There are features such as bubble chat and contact list separation from chat list that users can use in a hassle-free manner, and without any prior expertise. Along with these enhancements, it boasts of features like queuing up of messages in offline state and contact list loading in 3 seconds.

The Nimbuzz Blackberry Messenger application also incorporates phone number verification for users to find their existing phone-book contacts that are already on platform. The app is available in 19 languages, apart from English, French and Arabic. Various features such as free chat rooms, social integration, multimedia sharing and chat buddies, typical to Blackberry, are retained in the new Nimbuzz messenger.
Commenting on the launch of the new Nimbuzz messenger for Blackberry, Vikas Saxena, Chief Executive Officer, Nimbuzz said, "Nimbuzz has always believed in delivering a communication platform that understands the evolving needs of its users. With a majority of conversations moving towards apps like Nimbuzz, it is extremely important for us to innovate solutions that enhance the communication lifestyles of our existing and new users."
TAGS: BlackBerry, Apps, smartphones, Chat