Facebook Introduces New Features | TechTree.com
Facebook Introduces New Features
Friend Activity, Top Story, Ticker.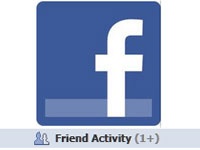 Facebook has been introducing one feature after another as it strives to maintain supremacy in the social networking arena. A few weeks ago, FB had introduced a Subscribe Button, which lets you keep track of changes made by your friends to their status. This has been seen to be an effort on FB's part to discourage users from using Pages for individuals. Now, it has unveiled yet another feature, Friend Activity, which lets you know how your friends are interacting with a particular page on FB.

FB has introduced a few other new features today. One of them is Top Story, which can be experienced in the News Feed, which will now act like your own personal newspaper. All the news will now be available in a single stream with the most interesting stories at the top. If you visit FB after several days, you will see top photos and statuses posted while you had not logged in, marked with an easy-to-spot blue corner. Those who visit FB frequently will see the most recent stories first, while photos will also be bigger.


A new link called Friend Activity is now visible on the left navigation panel of a FB page. This link informs the FB user about the interaction of his \ her FB friends with that particular page along with a number.

Ticker is another interesting feature unveiled today. While News Feed takes a while to update, Ticker provides you with instant updates about friends' comments, shares, status change, etc. Clicking on any of the items in the ticker will show you the full story without moving away from the page you are already on. This feature is very much similar to the constantly updating Twitter feed which keeps moving as it is updated.




While FB's previous feature adds have been lauded, the ones unveiled today have been at the receiving end of scathing criticism from users. Do let us know what you think about them.