ASUS Nexus 7 With 8 GB Gets Listed Online | TechTree.com
ASUS Nexus 7 With 8 GB Gets Listed Online
However, the Android Jelly Bean-based device is yet to get a price and shown as "Coming soon".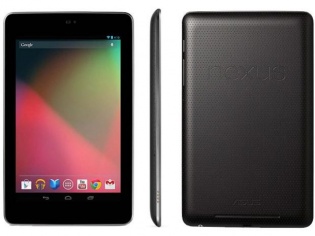 The 8 GB version of Google's Nexus 7 tablet has appeared on Saholic.com as the ASUS Nexus 7. The device made by ASUS for the search giant, runs an unadulterated (read "pure") version of Android 4.2 (Jelly Bean). Dubbed as Google's hero, this tablet is valued higher by the Android community in general, and the developer community in particular. 16 GB and 32 GB variants of the 7" tablet have been available for a while on Google Play Store, but the 8 GB version is not up for grabs yet. Likewise, the 16 GB and 32 GB variants are not listed on Saholic.com either. The website mentions it as "Coming soon" and hence has not put a price to it. But it does state that the slate will come with a 12-month warranty and will be delivered within 3 business days, once it becomes available. Here are the product's specifications:
Android 4.2 (Jelly Bean), Google Play Store support.
7" IPS capacitive multi-touch display with pixel dimensions of 1280x800, protected by Corning Gorilla Glass.
1.3 GHz NVIDIA Tegra 3 quad-core CPU, ULP GeForce GPU.
1 GB RAM.
8 GB internal storage, No microSD card slot.
1.2 megapixel front camera.
Wi-Fi 802.11 b/g/n, Bluetooth, NFC (Android Beam).
Microphone, micro-USB, 3.5 mm audio jack.
Sensors: Ambient light, Accelerometer, Gyroscope, Digital compass, GPS.
4325 mAh battery with up to 9 hours general usage backup.
7.8" (H) x 4.7" (W) x 0.41" (10.45 mm) (D), 340 grams.
Colour: Black.
The device has certainly got a winning set of configurations that shouldn't disappoint, as far as performance is concerned. The NVIDIA Tegra 3 CPU should be adept for taking care of gaming. The only qualm is probably the lack of a microSD card slot, so you are good as long as you don't fill up the 8 GB of internal storage. This is going to be hard, considering that some of this space is already reserved for the OS and built-in apps. The tablet has no SIM card slot, so the only way to connect to the internet is via Wi-Fi.