Next Ubuntu Version May Come With Touch User Interface | TechTree.com
Next Ubuntu Version May Come With Touch User Interface
You can use the Ubuntu 13.10 OS with a touch-based animated interface, or the Unity interface for standard desktop use.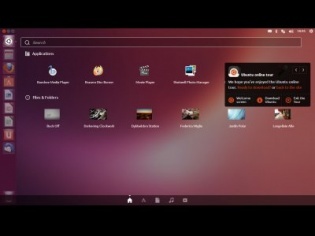 Ubuntu 13.10 (Suacy Salamander) coming to us with a Touch Animation User Interface may be a reality, as a video detailing a new theme for Ubuntu has surfaced, which showcases the Touch interface being used on a Ubuntu based mobile phone. Reportedly made by Ubuntu designers, the video showcases various visual animations put to use in scenarios including unlocking the Ubuntu mobile-phone display.

An OMGUbuntu report terms the speculated Ubuntu theme as "Motion Theme" and also states about Ubuntu designers terming this new "motion theme" as "Paper". The entire "Paper" idea seems to have originated from the concept of giving the yet to be officially released motion theme a paper-like interface for users to operate the Ubuntu-powered phones intuitively. A layered approach is expected within the new Ubuntu version.

A video put up apparently by Ubuntu designers, details the Touch Animated Interface (interface termed as Suru UI). Check out the video below to find out.

In a Ubuntu 13.10 related development, there are rumors about Chromium web-browser replacing Mozilla Firefox, as the default web browser, in the open source operating system. It is claimed that developers have addressed various issues plaguing Chromium's usage as default web browser in Ubuntu.



Also Read:
Linux Ubuntu 13.04 'Raring Ringtail' Is Released, Woos Mobile Developers
Ubuntu Smartphones To Hit Markets This October