MAXX Launches Primo Mobile With A "Big Battery"
1800 mAh battery claims to provides 30-day standby time.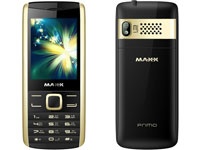 MAXX Mobiles has expanded its "Big Battery" series of GSM phones with the Primo (MX428). The other four models in this series with enhanced battery life are the Hexa (MX155), Rave (MX182 and MX190), and SUPER (MX424 and MX439).

The Primo comes with an 1800 mAh battery with a claimed standby time of up to 30 days, although the talktime has not been specified. Having said that, the large battery capacity will surely result in less frequent need to charge the phone. Sporting a bar form factor, the device has a 2.4" screen, 1.3 MP camera with flash, and dual LED torch. In a move towards localisation, it comes with a bilingual keypad supporting English and Hindi. Just like other MAXX mobile phones, the Primo also comes with the King Movie Player that claims to allow playback of full length movies and videos by compressing them to a tenth of the size without compromising on quality. A 4 GB memory card is provided with the phone.

The MAXX Primo is available at a very affordable price of just Rs 2500. It retails at around 40,000 retailers across the country, including Planet M, Tata Croma, Hyper City, Star Bazar, Mobile & Gadgets, Indian Naval Canteen, Kings Electronics, Hotspot, Reliance Web World, and NEXT Electronics.
TAGS: Mobile Phones, MAXX, Jayesh