Opera For Android Now Finalized, Offers Webkit Rendering | TechTree.com
Opera For Android Now Finalized, Offers Webkit Rendering
Users can now dynamically search for web content with the browser's Discover feature, and save on data usage bills.
Opera for Android which was available for download in its beta stage has now been finalized and the stable version is officially available for download. With this, Opera's Webkit browser for Android is available for users on Google's Play Store. This browser marks Opera's first webkit venture (Webkit is an open source project). For a decade now, Opera was using its proprietary Presto engine to render web pages.

The tweaks made now complement the already existing features of the Opera browser, and also introduce a revamped user interface (UI) besides a new Discover feature. With Discover, users can find new stuff (new, favorite articles from across the web) with just a swipe on the home screen. The feature helps people to update themselves with all the latest developments from across the web. There are varied categories such as Arts, Technology, News and so on. One aspect to remember here is, the Discover feature displays the latest only upon being synced by Opera, and is not automated.

The Opera Webkit browser also incorporates the Off-Road feature (tested in the beta version), a variant of the functionality that Opera Mobile and Mini already offer. This feature compresses web page sizes for reduction of data traffic while browsing, so that users can save money paid towards data usage. Off-Road would also be suitable when 3G is not present and you have a slow data connection, such as over GPRS. We feel that Off-Road would be of great help to Opera users in India as a "slow internet connection" is all you get through most of the country.

There are the usual performance enhancements to complement the new features, along with an all new combined address and search field for easy accessibility. Opera's Webkit browser for Android is based on Chromium's rendering engine, and offers greater website compatibility. Check out Opera if you want something new on your Android mobile phones. The browser is also available from Opera's official mobile site.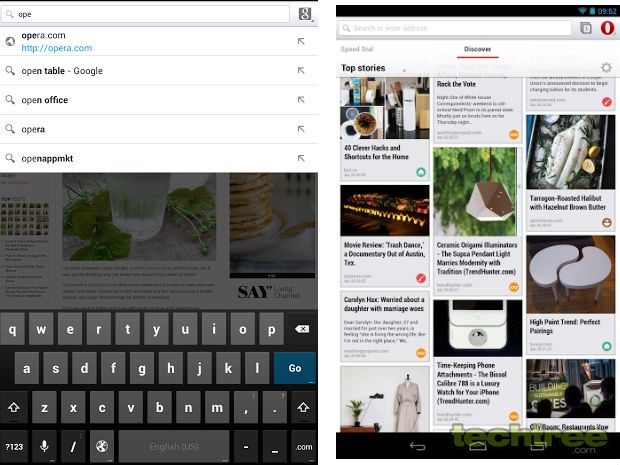 screenshot of Opera for Android web browser
TAGS: Opera, Software, Android, Mobile Phones, Internet, browsers