Facebook Timeline Goes Live | TechTree.com
Facebook Timeline Goes Live
Was delayed due to a trademark lawsuit.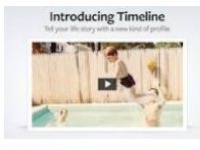 Almost three months after being showcased by Mark Zuckerberg at the f8 2011 event, the Timeline feature has finally been released for normal users. As its name suggests, this feature summarizes your FB profile along the lines of an activity log. Although it changes the way your profile looks, the interface of your Wall will remain unchanged.

To activate this feature, log into your account and click this link. You'll then be greeted by the introduction page. Next, click on the Get Timeline button as shown in this image:


Congrats! You've successfully added the Timeline to your profile. Now select a unique image to set it as your Cover, which will act as a representation of your profile. Those who are paranoid about their privacy can then begin hiding certain posts and updates from appearing in the Timeline.

This update was delayed due to a patent infringement lawsuit from the website Timelines.com (for obvious reasons). Now that Mark has won the legal battle, the losing party is probably searching for the Dislike button.