BenQ Launches XL2411T 3D Gaming Monitor For Rs 22,500 | TechTree.com
BenQ Launches XL2411T 3D Gaming Monitor For Rs 22,500
24" display boasts of 1 ms response time and 120 Hz refresh rate.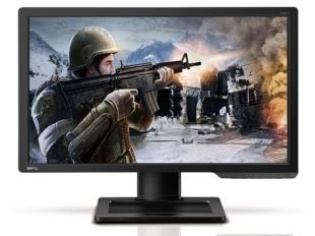 BenQ has launched a new LED-backlit 3D gaming monitor, the XL2411T for gamers and professionals. Featuring a 24" Full HD panel, this new XL Series monitor supports a refresh rate of 120 Hz, which makes it compatible with NVIDIA 3D Vision 2 technology, but it doesn't come with an inbuilt IR emitter or 3D glasses. Specs mention a 1 ms GTG response time, which if true, makes it good for gaming. The 12,000,000:1 dynamic contrast ratio claims to display the darkest as well as the brightest part of an image.
The series includes the Black eQualizer, which claims to improve visibility in darkened areas, which can be useful while gaming. The Display Mode and Smart Scaling features allow gamers to change between monitor screen sizes from 17" (4:3), 19" (4:3), 19" Wide (16:10), 21.5" Wide (16:9), 22" Wide (16:10), 23" Wide (16:9), to 24" Wide (16:9), and to manually scale the screen to a custom size.
The monitor differs from the XL2420T that was launched last year, with a faster response time of 1 ms as against 2 ms. Also, the older monitor has speakers, while the newer version does not. Moreover, the newer version which also has a slightly lower power consumption, smaller dimensions and is lighter, does not include the S Switch controller. The BenQ XL2411T is available at an MRP of Rs 22,500, making it somewhat expensive.