Download: Dragonbox+ Algebra (iOS, Android, Windows, Mac)
Algebra simplified for the tiny tots.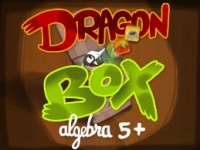 If maths in general, and algebra in particular have vexed you during college years, you are in a majority. However, if you don't want your kids to suffer a similar fate, then there is Dragonbox+ Algebra, an app that claims to make algebra easy and interesting for kids as young as 5 years old. This app adopts a visual method, with attractive colour graphics and music, to teach the fundamentals of algebra to young ones. The basic idea is to make it easier to comprehend complex algebraic problems.
The app consists of 200 engaging puzzles laid out in 10 progressive chapters, of which 5 are for learning and 5 bonus chapters are for honing skills. Children can learn basic algebraic rules and slowly get a grip on the subject as they progress through the levels. We tried to see if the app is comprehensible to kids and found that they indeed get glued to it, partly because of the charm of the iPad and partly because of the interesting way of presentation of the app itself. While it is not free, the price tag of $5.99 (approx Rs 330) is not too much to spend to make sure that your kid doesn't dread at the thought of algebra. To understand the working of the app, check out the video below.
Publisher: WeWantToKnow AS
Platform: iOS, Android, Windows, Mac
Price: $5.99 (Rs 330) on iOS, Rs 100 for Android, Rs 300 for Windows 8
Size: 21 MB - 31.8 MB
Download URL: iOS - https://itunes.apple.com/us/app/dragonbox+-algebra/id522069155?mt=8; Android - https://play.google.com/store/apps/details?id=com.wewanttoknow.DragonBoxPlus&hl=en; Windows 8 - http://apps.microsoft.com/windows/en-IN/app/dragonbox/9f789e97-feb3-4d87-b460-b2a8157b12b5; Windows 7 - http://shop.wewanttoknow.com/collections/frontpage/products/dragonbox; Mac - https://itunes.apple.com/app/dragonbox+/id524967552?ls=1&mt=12
TAGS: Downloads, Apps, iOS, Android, Windows, Mac, Education