DataWind Finally Completes Aakash2 Shipments | TechTree.com
DataWind Finally Completes Aakash2 Shipments
Also claims to have cleared its pre-order backlog for the commercial UbiSlate tablets.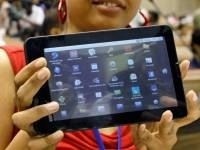 After promising to complete shipping of the balance Aakash2 tablets to the government by 31st March, DataWind has finally finished the marathon run a month later than its promised deadline. In an email, the company claims that despite all the negative criticism, "the project has been completed within the time-frame of the contractual obligations between IIT-Bombay and DataWind". DataWind has blamed the delay on lack of clearance from the customs officials for certain components, "non-acceptance of IIT-Bombay's exemption certificates, and delays due to extension and processing of IIT-Bombay's letter of credit".

The company also clarified that it has cleared out its entire pre-paid backlog for the UbiSlate. New requests, if any, will be processed within 72 hours. If you haven't yet gotten your tablet, blame it on the "lack of courier coverage or contact information", they say.

For critics who have panned the slate for poor performance, DataWind adds, "While some have criticized the product's performance, many continue to highlight issues with the previous version which was obsoleted more than 12 months back, and don't reflect the reality of the current product. Most critics that question the product's performance compare it to their experience with products that are priced ten times higher, and none offer an alternative product at a competitive price to the Aakash2. It is easy to criticize the product, but a crime to keep a billion people in India off the internet due to affordability". Maybe instead of criticizing it, or waiting for it to show up, remember MP Pallam Raju's advice: Students can opt for similar and better low-cost options available in the market "instead of being too 'obsessed' with the device".
TAGS: Tablets, Android, Aakash, Government