Kindle Fire Up For Grabs In India
Tradus.in lists the tablet for Rs 14,000.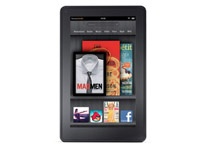 Not too long ago, a $200 Android tablet sporting a Gorilla Glass-reinforced IPS screen and dual-core processor sounded too good to be true. That is, until Amazon unveiled the Kindle Fire. A couple of months after its release, the pocket-friendly tablet has finally reached our shores.

Tradus.in has put up the Kindle Fire on sale for Rs 14,000, with free shipping. That's quite impressive when you consider the fact that Amazon doesn't ship the tablet to India at all. The cost may not be equal to the direct rupee conversion of the $200 list price, but after taking into account the shipping charges and import duties for sending it to India, works out to nearly the same.

This news, however, doesn't mean that the Kindle Fire has been officially launched in India. The e-shop has listed the device under its "Imported Products" section - therefore it's unlikely that it will be backed by a warranty. However, we are waiting for Tradus.in to provide official facts on the after-sales support, so watch this space for updates.