LG OLED TV Announced, Optimus G Pro In India By July | TechTree.com
LG OLED TV Announced, Optimus G Pro In India By July
Price and models of OLED TVs as yet unknown; Android 4.1 smartphone sports 5.5" Full HD screen and quad-core CPU.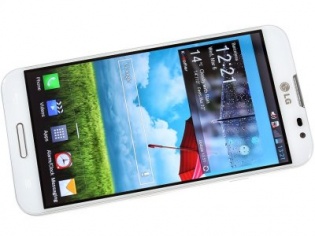 LG has announced that it will soon introduce to the Indian consumers, its new TVs with OLED panels according to The Times Of India. OLED TVs are better than LCD TVs because they are thinner, lighter, and brighter with wide viewing angles and low power consumption. Of course, the price is higher, although the company gave no indication regarding pricing or model names. It will continue to sell TVs based on older technologies such as Plasma TVs alongside the new models.

The South Korean company also announced that the LG Optimus G Pro will come to the Indian market in June or July this year. The handset running Android 4.1.2 (Jelly Bean), sports a 5.5" Full HD IPS screen, 1.7 GHz quad-core Snapdragon CPU with 2 GB of RAM, 32 GB internal storage, a 13 MP rear camera with flash along with a 2.1 MP front camera, and a high-capacity 3140 mAh battery, which is definitely needed to provide ample backup to this power-hungry phone. The company is expected to price it at around Rs 40,000 according to its India MD Soon H Kwon.

In addition to the above, LG also plans to introduce other convergence devices such as refrigerators with in-built television screens and washing machines that can automatically diagnose faults. With several devices waiting to be launched, it seems that LG is ready to take on its main competitor Samsung, also hailing from the same country, on the Indian turf.
TAGS: Displays, Mobile Phones, Android, LG