ASUS GeForce GTX 670 DirectCU Mini Graphics Card Launched | TechTree.com
ASUS GeForce GTX 670 DirectCU Mini Graphics Card Launched
Small form factor Nvidia GTX 670 offers good gaming performance in space-saving mini ITX/micro-ATX PCs and HTPCs.
ASUS has announced the GeForce GTX 670 DirectCU Mini, a compact high-performance graphics card designed primarily for small form factor PCs with mini-ITX motherboards. The dual-slot card measures just 17cm and features the NVIDIA GTX 670 GPU for DirectX 11.1-compatible gaming. For comparison, the reference GTX 670 measures 24.13cm.

It is nice that ASUS has re-engineered the DirectCU cooler to fit small form factor cases and offer less-noisy operation of high-end graphics cards. On the flip side, the "Mini" Kepler-gen GPU in a short body lands up at least one-third costlier than a standard GeForce GTX 670 variant, which itself is already priced at the upper-end. The ASUS GTX670-DCMOC-2GD5 carries a 3-year warranty and is priced at Rs 34,350 excluding taxes.

Small form factor PCs based on mini ITX motherboards can be contained within compact cases, and thus be easier to transport to LAN parties than a standard desktop PC. At a time when the need for a PC is being questioned, enthusiasts who'd spend large amounts of money on high-end components and pigeon-hole themselves into a non-standard form-factor would probably be few and far between. Moreover, high-end gaming laptops are increasingly taking over this role, even among those who still do attend LAN gaming parties.

Mr. Vinay Shetty, the Country Head for Component Business, ASUS (India) said, "The ASUS GTX670-DCMOC-2GD5 measures just 17cm in length; it also has copper vapor chamber placed directly on top of the GPU for faster heat spreading and dispersal with 20% (or 7.5∘C) lower temperatures than reference GTX 670 making it the perfect choice for compact gaming PCs."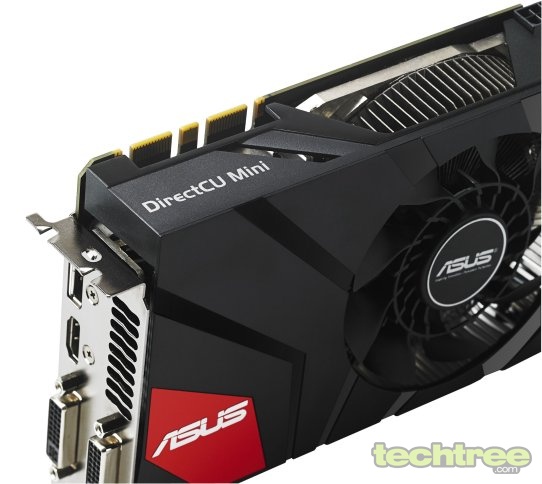 The important specs are listed below, full specifications of this graphics card can be found on Asus' website:
Nvidia GeForce GTX 670 GPU, PCI-Express 3.0 bus
1344 CUDA cores, base/overclocked speeds of 928/1006 MHz
2GB GDDR5 Video RAM, 256-bit interface (1502 MHz actual, effectively 6008 MHz)
Retail Bundle: 8-pin power cable, GPU Tweak utility, ASUS software and GPU driver
Video outputs: two DVI, one HDMI, one DisplayPort
Dimensions: 17cm x 12cm x 4cm (6.7" x 4.8" x 1.6")
TAGS: ASUS, Graphics Cards, Gaming